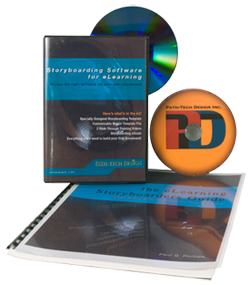 eLearning Storyboarding Kit
How the right Software choice for elearning Storyboarding can help you reduce your production time.
Here's my story and the pain I went through initially and how you can avoid it. This might sound familiar. My boss decided the training department I was working in at the time was switching to elearning and because I had a little knowledge of desktop publishing I got the nod to build the department's first elearning storyboard. The only problem was, I had no clue how to accomplish this... so what am I going to do?

What does anyone do in this position? Of course I decided to construct my first storyboard using the tools at hand like Adobe Pagemaker/InDesign.

Fun, wow!
Once I had some form of an initial draft together the boss decided others in the department should get into the mix to edit and contribute their 2 cents worth. The only problem was that they had no experience with Pagemaker, sound familiar? So I decided they would contribute with Word and I would add their content to Pagemaker. As you can imagine, I got real busy in a hurry and spent more time focusing on software issues than I did crafting the content of my courses.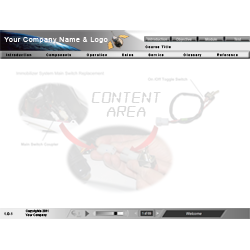 Storyboarding Software Kit To The Rescue
Clearly, there's more to assembling a powerful elearning storyboard than just choosing software. Lets consider some basic requirements.

The best software to accomplish the task at hand. Do you have a master template for your storyboard to reside in? Is your storyboard setup to make the transition to your authorware program like Captivate or Flash? What about the general layout? Does it focus on the student? Will your finished course have audio? Oh, it does. Does your storyboard accommodate all these basic fundamentals? What about headers, content area and bottom bar functionality? I think you get the idea. Why try to figure this all out on your own when it's all provided for you in one easy to use eLearning Storyboarding Kit?

Wouldn't it be nice if you knew all the tips and tricks to jump right in and punch out your very own first successful storyboard?
If you would like to have a process that will save you more than a few sleepless nights, take a look at my kit. You will be glad you did!

Have questions after you receive your kit, don't hesitate to connect and I'll do my best to answer your questions.